软件包: aspell (0.60.7~20110707-1.3)
aspell 的相关链接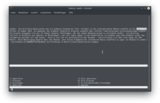 Tanglu 的资源:
下载源码包 aspell:
维护者:
Please consider filing a bug before contacting the maintainer directly.
Original Maintainer (usually from Debian):
It should generally not be necessary for users to contact the original maintainer.
外部的资源:
相似软件包:
GNU Aspell spell-checker
GNU Aspell is a spell-checker which can be used either as a standalone application or embedded in other programs. Its main feature is that it does a much better job of suggesting possible spellings than just about any other spell-checker available for the English language, including Ispell and Microsoft Word. It also has many other technical enhancements over Ispell such as using shared memory for dictionaries and intelligently handling personal dictionaries when more than one Aspell process is open at once.
Aspell is designed to be a drop-in replacement for Ispell.
其他与 aspell 有关的软件包
rec:

aspell-en

English dictionary for GNU Aspell
本虚包由这些包填实: aspell-am, aspell-ar, aspell-ar-large, aspell-bg, aspell-br, aspell-ca, aspell-cs, aspell-cy, aspell-da, aspell-de, aspell-de-alt, aspell-el, aspell-en, aspell-eo, aspell-eo-cx7, aspell-es, aspell-et, aspell-eu-es, aspell-fa, aspell-fo, aspell-fr, aspell-ga, aspell-gl-minimos, aspell-he, aspell-hr, aspell-hsb, aspell-hu, aspell-hy, aspell-is, aspell-it, aspell-kk, aspell-ku, aspell-lt, aspell-lv, aspell-nl, aspell-pl, aspell-pt-br, aspell-pt-pt, aspell-ro, aspell-ru, aspell-sk, aspell-sl, aspell-sv, aspell-tl, aspell-uk, aspell-uz
本虚包由这些包填实: aspell-no
sug:

aspell-doc

Documentation for GNU Aspell spell-checker

sug:

spellutils

Utilities to spell-check selectively