Package: gamazons (0.83-7)
Links for gamazons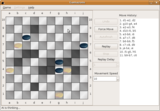 Tanglu Resources:
Download Source Package gamazons:
Maintainer:
Please consider filing a bug before contacting the maintainer directly.
Original Maintainers (usually from Debian):
It should generally not be necessary for users to contact the original maintainer.
External Resources:
Similar packages:
Experimental package
Warning: This package is from the staging distribution. That means it is likely unstable or buggy, and it may even cause data loss. Please be sure to consult the changelog and other possible documentation before using it. The package will automatically migrate to the current development distribution, when it has been tested.
Amazons boardgame for GNOME
Amazons is a game played on a 10x10 chess board. Each side has four pieces (amazons) that move like chess queens (in a straight line in any direction). Instead of capturing pieces like in chess, the game is determined based on who moves last.
Each move consists of two parts. First an amazon moves to a new square and then fires an arrow to another square (the arrow is fired in a straight line in any direction from the square the amazon landed on). The square the arrow lands on becomes a permenant block for the rest of the game. No one can move over it, or fire an arrow over it. Every turn an amazon must move and fire an arrow, so every turn there is one less square available on the board. Try and block in your opponent or section off a good chunk of the board for yourself.
Other Packages Related to gamazons