Paquet : aptitude (0.7.5-3)
Liens pour aptitude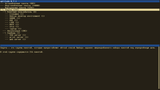 Ressources Tanglu :
Télécharger le paquet source aptitude :
Responsable :
Please consider filing a bug before contacting the maintainer directly.
Original Maintainers (usually from Debian):
It should generally not be necessary for users to contact the original maintainer.
Ressources externes :
Paquets similaires :
Paquet « expérimental »
Warning: This package is from the staging distribution. That means it is likely unstable or buggy, and it may even cause data loss. Please be sure to consult the changelog and other possible documentation before using it. The package will automatically migrate to the current development distribution, when it has been tested.
terminal-based package manager
aptitude is a package manager with a number of useful features, including: a mutt-like syntax for matching packages in a flexible manner, dselect-like persistence of user actions, the ability to retrieve and display the Debian changelog of most packages, and a command-line mode similar to that of apt-get.
aptitude is also Y2K-compliant, non-fattening, naturally cleansing, and housebroken.
Autres paquets associés à aptitude
dep:

aptitude-common (= 0.7.5-3)

architecture independent files for the aptitude package manager

dep:

libapt-pkg5.0 (>= 1.1)

package management runtime library

dep:

libboost-filesystem1.58.0

Paquet indisponible

dep:

libboost-iostreams1.58.0

Paquet indisponible

dep:

libboost-system1.58.0

Paquet indisponible

dep:

libc6 (>= 2.14) [amd64]

GNU C Library: Shared libraries
un paquet virtuel est également fourni par libc6-udeb

dep:

libc6 (>= 2.4) [i386]

dep:

libcwidget3v5

high-level terminal interface library for C++ (runtime files)

dep:

libncursesw5 (>= 6)

shared libraries for terminal handling (wide character support)

dep:

libsigc++-2.0-0v5 (>= 2.6.1)

type-safe Signal Framework for C++ - runtime

dep:

libsqlite3-0 (>= 3.6.5)

SQLite 3 shared library

dep:

libstdc++6 (>= 5.2)

GNU Standard C++ Library v3

dep:

libtinfo5 (>= 6)

shared low-level terminfo library for terminal handling

dep:

libxapian22v5

Search engine library
sug:

apt-xapian-index

maintenance and search tools for a Xapian index of Debian packages

sug:

debtags

Debian Package Tags support tools

sug:

tasksel

tool for selecting tasks for installation on Tanglu systems