Paket: synaptic (0.80tanglu1)
Links für synaptic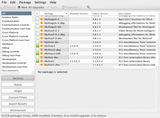 Tanglu-Ressourcen:
Quellcode-Paket synaptic herunterladen:
Betreuer:
Please consider filing a bug before contacting the maintainer directly.
Original Maintainer (usually from Debian):
It should generally not be necessary for users to contact the original maintainer.
Externe Ressourcen:
Ähnliche Pakete:
Graphical package manager
Synaptic is a graphical package management tool based on GTK+ and APT. Synaptic enables you to install, upgrade and remove software packages in a user friendly way.
Besides these basic functions the following features are provided:

 * Search and filter the list of available packages
 * Perform smart system upgrades
 * Fix broken package dependencies
 * Edit the list of used repositories (sources.list)
 * Download the latest changelog of a package
 * Configure packages through the debconf system
 * Browse all available documentation related to a package (dwww is required)

Andere Pakete mit Bezug zu synaptic
rec:

gksu

graphical frontend to su

oder kdebase-bin

Transitional package for new kde-baseapps

oder policykit-1

framework for managing administrative policies and privileges

rec:

libgtk2-perl (>= 1:1.130)

Perl interface to the 2.x series of the Gimp Toolkit library

rec:

rarian-compat

Documentation meta-data library (compatibility tools)